Ibéricos y Quesos_
Iberics and cheeses
Jamón Ibérico de bellota con picos crujientes
"Iberic Pata Negra Ham" with spanish traditional breadsticks
Degustación de quesos con D.O españoles
Selection of Spanish cheeses DOC. Cheese Arzúa (Galicia), Mahón (Menorca), Manchego (Castilla- La Mancha), Idiazabal (Basque Country) and Coquesa Azul (Asturias)
Degustación de Ibéricos y Quesos españoles D.O
Selection of Iberico cuts (Iberic pata negra ham, loin & chorizo) and Spanish cheeses DOC (Arzúa, Mahon, Manchego, Idiazabal, Coquesa Azul)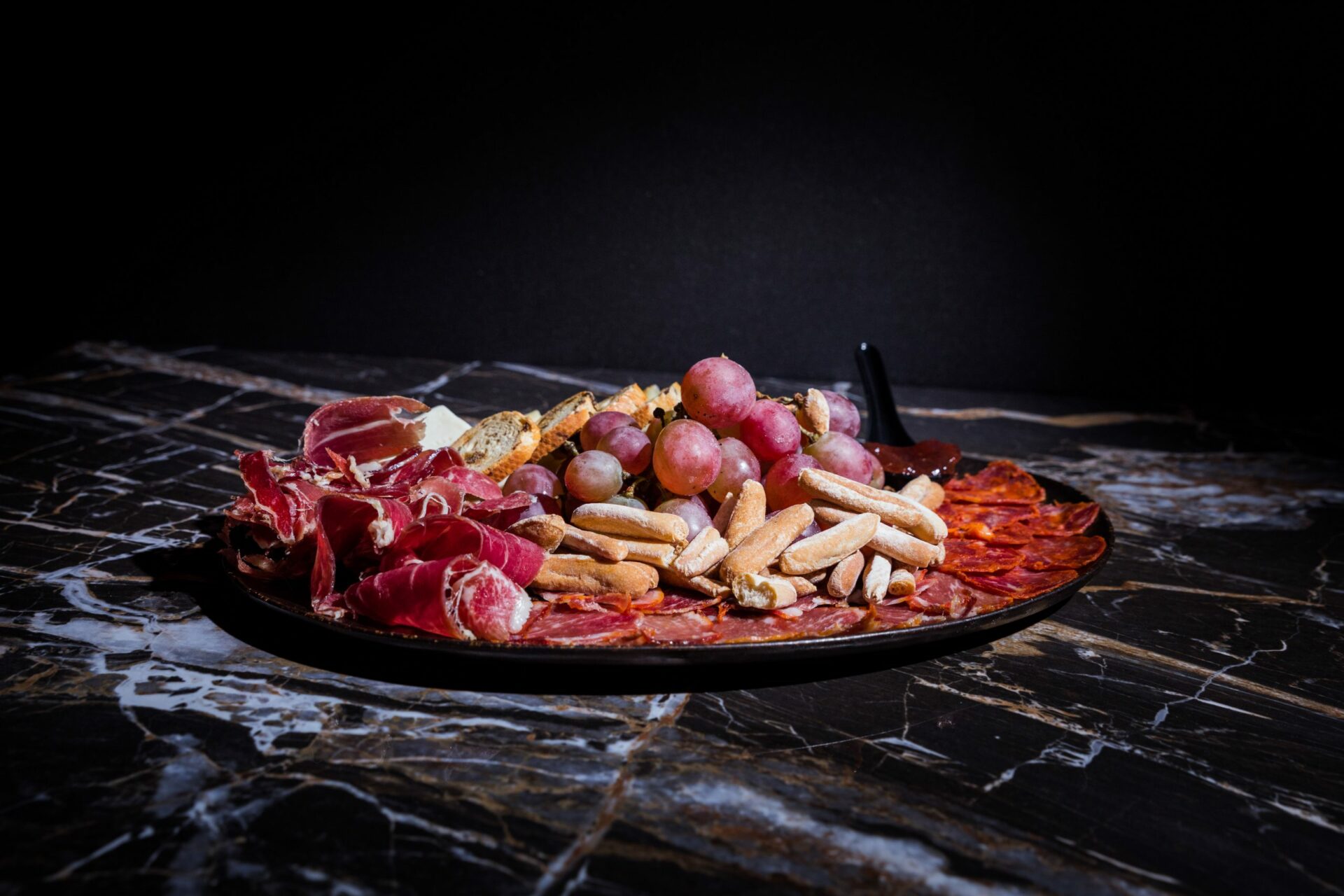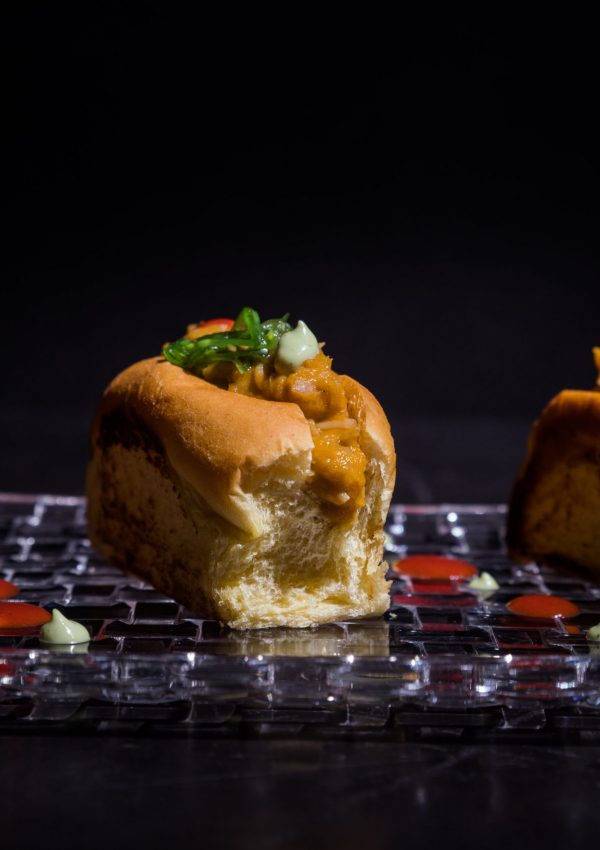 Los clásicos de Tapea_
Tapea Classics
Dúo Briochito de Guiso de Centolla gallega
Galician spidercrab brioche with wakame, green mustard and siracha sauce. Discover the Unami flavor!
Selección de croquetas artesanales de jamón ibérico y setas con trufa
Selection of artisan creamy croquettes of Iberian ham & mushrooms with truffle
Txistorra de Arbizu con picos crujientes
Cured pork sausage typical of Aragon and Navarra DOC with breadsticks
Matrimonio de anchoas y boquerones en vinagre de Santoña con pan de cristal recién horneado
Marriage of anchovies in olive oil and salt with anchovies in vinegar and garlic served with cristal bread
Canelón XXL de rabo de toro guisado a baja temperatura con reducción de de su propio jugo y vino tinto servido con bechamel
Oaxtail canelloni XXL size cooked at low temperature with reduction of red wine sauce with truffle bechamel
Pimiento del piquillo relleno de bacalao con una suave bechamel y salsa de tomate
Piquillo peppers stew filled with cod fish and bechamel, covered in soft tomato and piquillo sauce.
Mini hamburguesas de chuletón de vaca gallega con salsa trufada y reducción de P. Ximénez (4 un.)
Galician Ribeye meat Miniburgers with truffle sauce and P. Ximenez wine reduction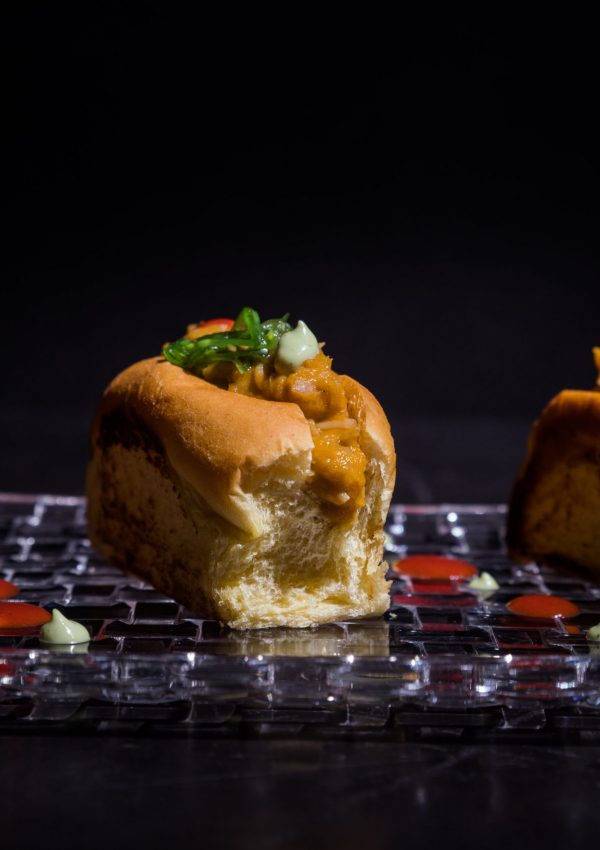 Sopas y cremas de temporada_
Seasonal creams and soups
Cold tomato soup served with vegetables chopped on the top
Cold tomato, bread and garlic soup served with boiled egg and iberic ham diced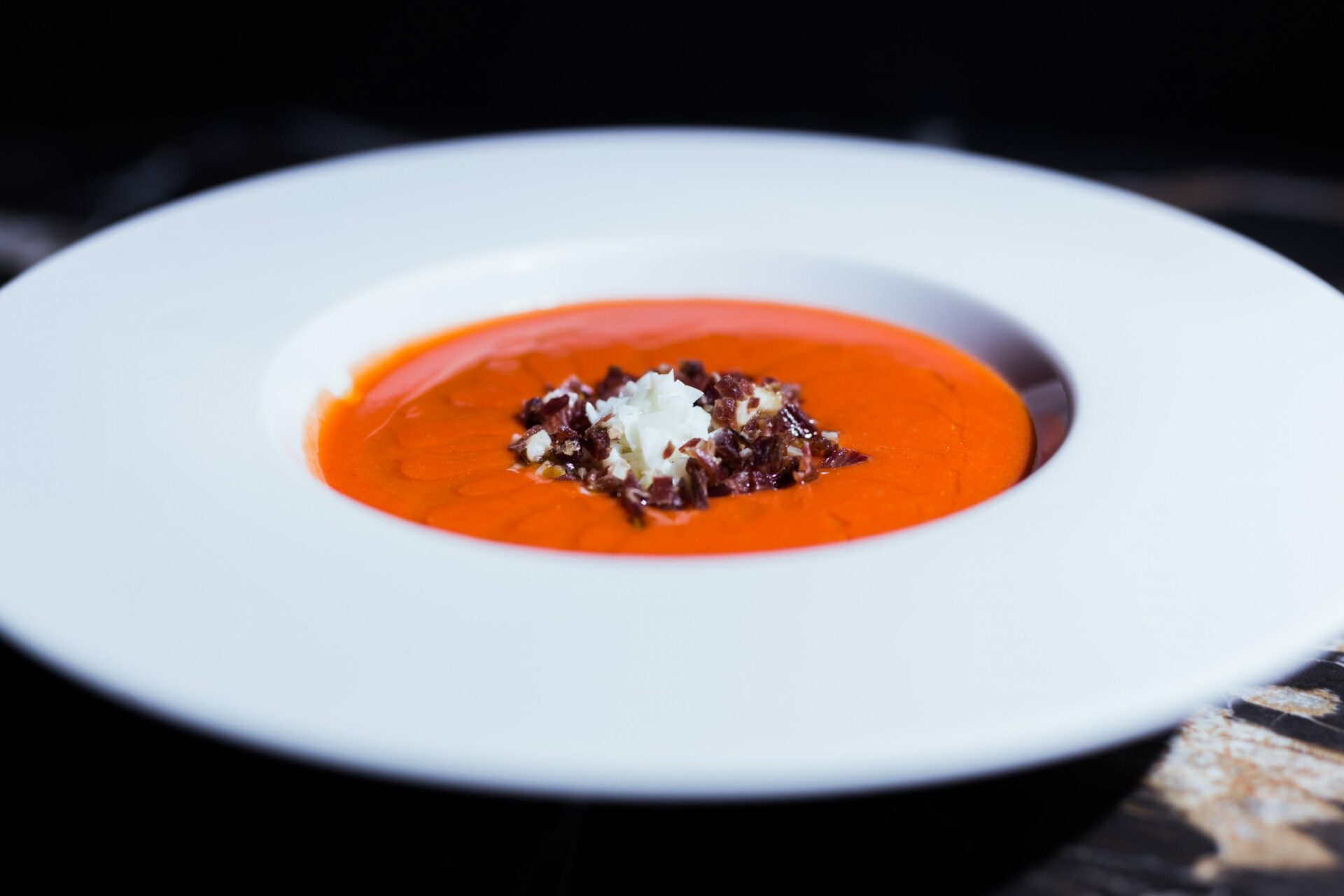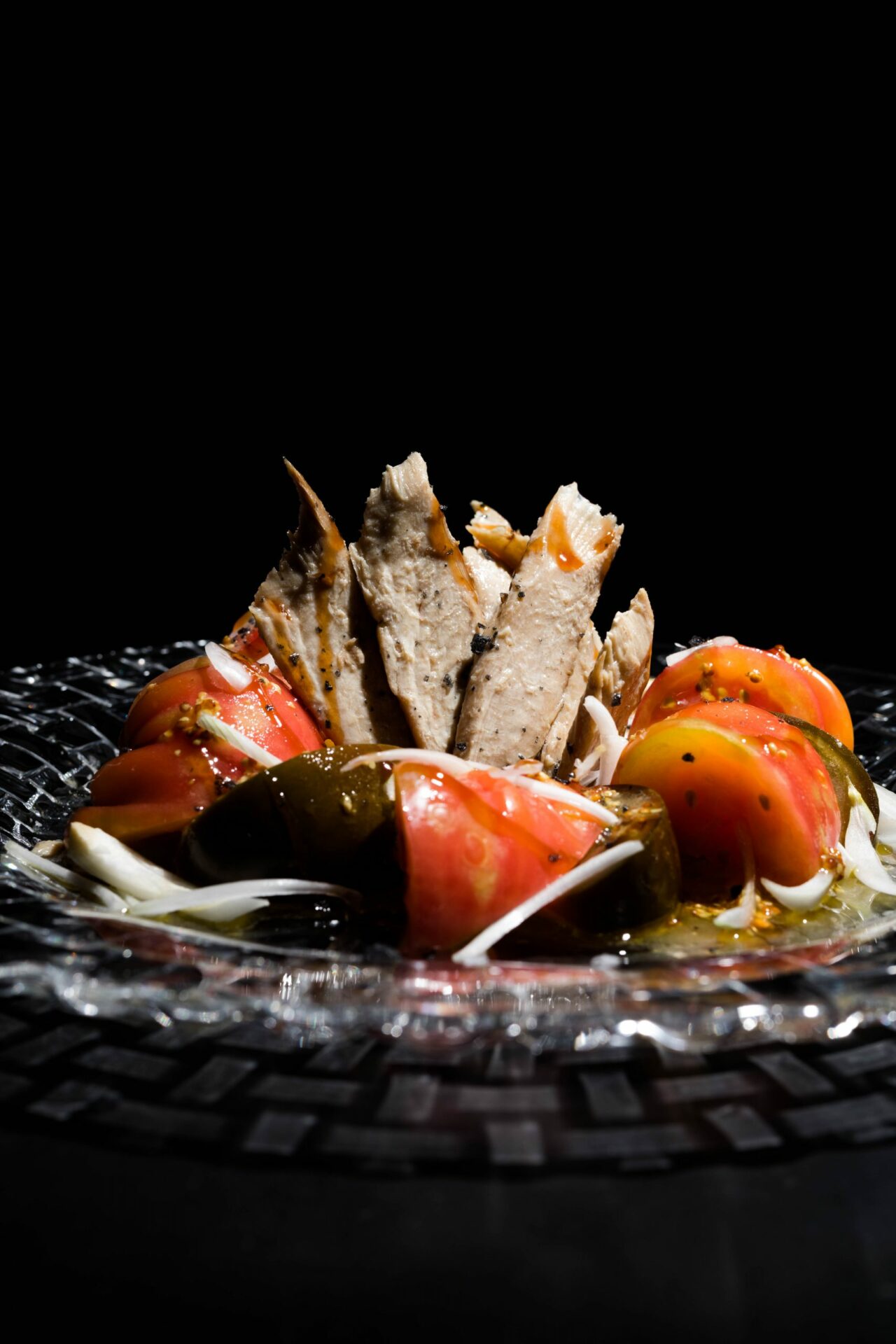 Ensaladas y verduras_
Salads and vegetables
Flor de alcachofa confitada a baja temperatura con virutas de jamón
Artichokes hearts cooked in olive oil at low temperature and grilled with sea salt flakes & ham shavings
Ensalada de Codorniz de Toledo escabechada con vinagre de sidra
Pickled quail salad served with baby lamb lettuce, spring onion, sun-dried tomato & pomegranate grains with a reduction of porto wine dressing.
Surtido de tomate Rosa de la Reina D.O y tomate moruno con ventresca de bonito del Cantábrico
Assorted Pink Tomato 'de la Reina' DOC & tomato Kumato salad with Cantabric sea white tuna belly DOC
Ensalada "Ibérica" de tomate Kumato con nuestro jamón de bellota
'Iberic' salad tomato with our 'Pata Negra' Ham and our secret dressing
Ensalada de mejillones en escabeche con crujiente de tinta de calamar e hilos de chile
Galician pickled mussels served with baby lamb lettuce, spring onion, wakame salad, salmon pearls, angel hair chilli and crispy ink squid
Pimientos del padrón, ¡unos pican y otros no!
Fried Padron peppers and sea salt flakes in the top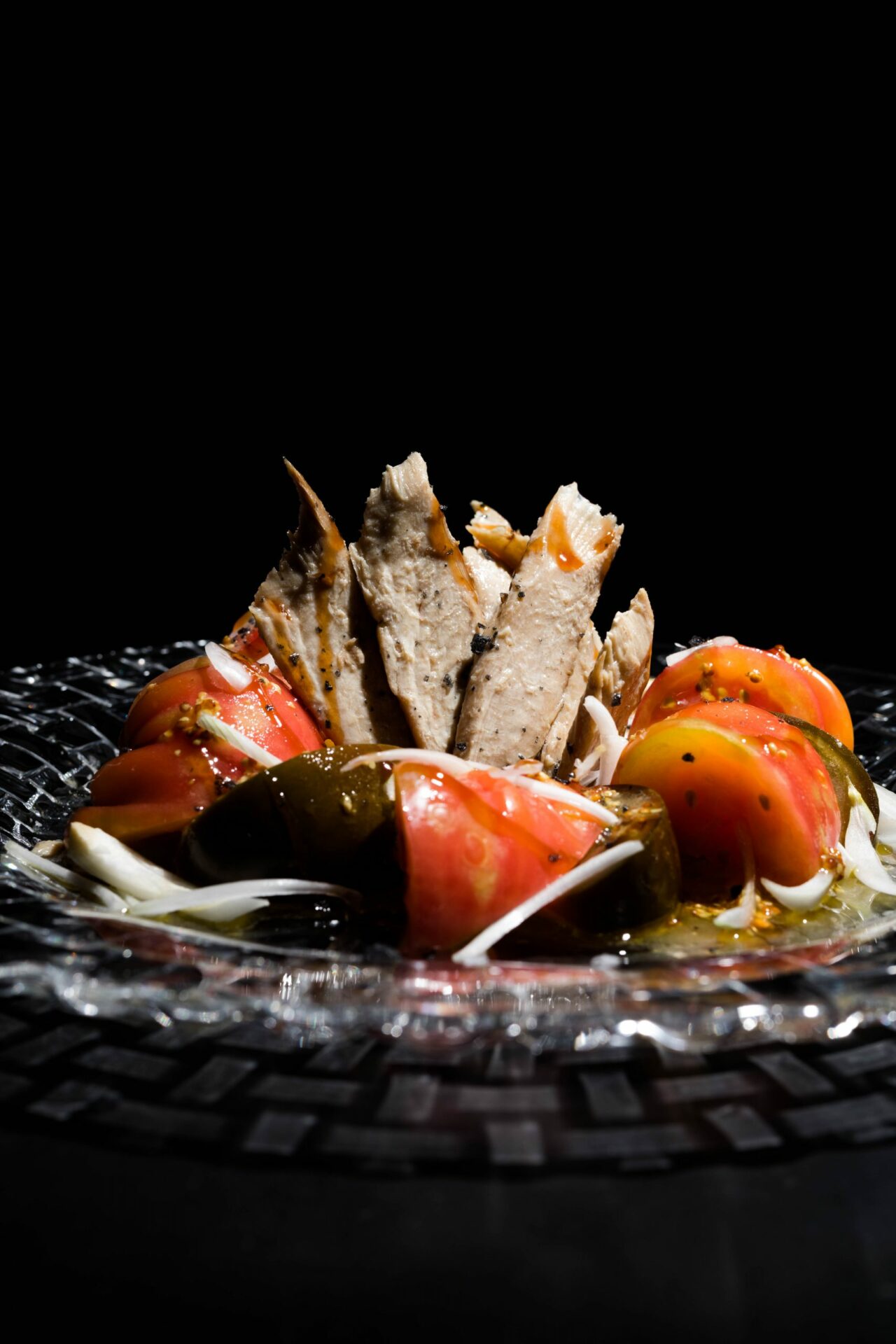 Con un par huevos_
With a pair of eggs
Huevos rotos con gulas y jamón ibérico
Fried egg served on a bed of potato purée with Iberian ham and baby eel fried with garlic and cayenne pepper.
Spanish omelette with potatoes and onions cooked in olive oil at low temperature.
Pisto Manchego con jamón ibérico de bellota, huevos fritos y patatas crujientes
Spanish traditional 'Pisto' stew with 'Iberico Pata Negra Ham', fried eggs and crispy potatoes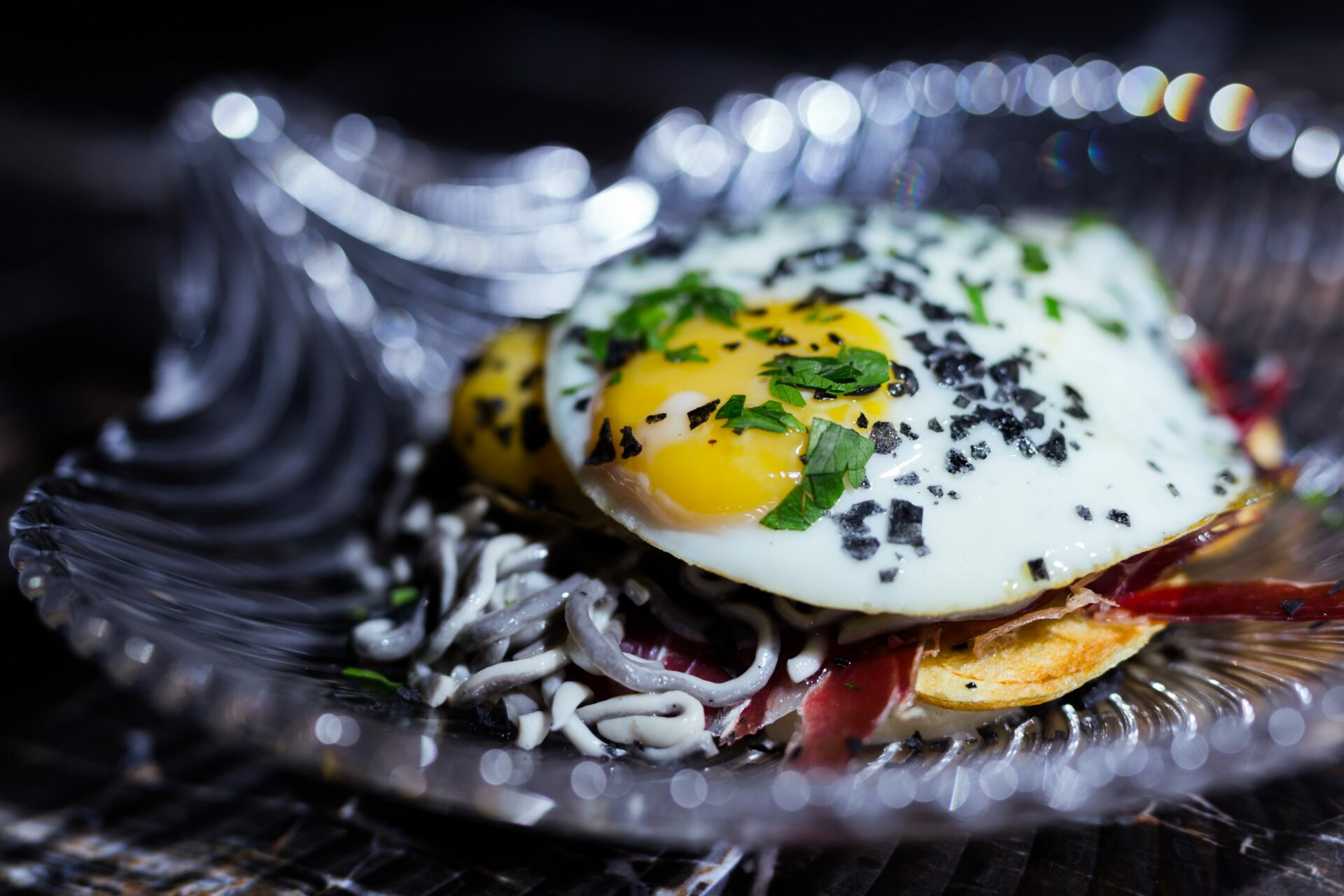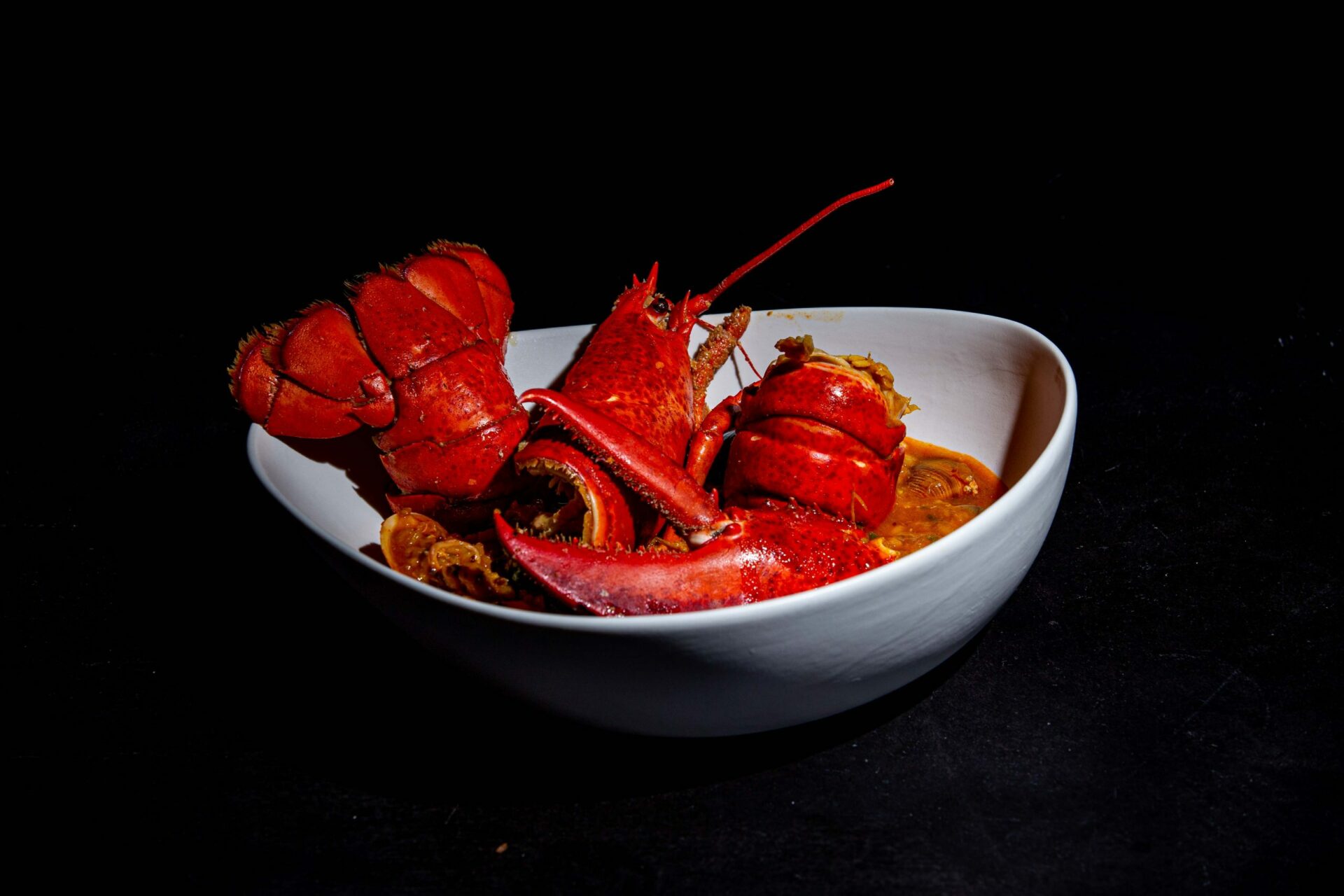 Arroz Caldoso de Marisco (min 2 pers.)
Seafood brothy rice with king prawns, clams, mussels, squid, monkfish and red prawn
Arroz Meloso de Carabineros (min 2 pers)
Seafood brothy rice with 'Carabinero' red king prawn.
Arroz Meloso de Langosta (min 2 pers) (Bajo reserva)*
Seafood brothy rice with fresh lobster. (preorder)*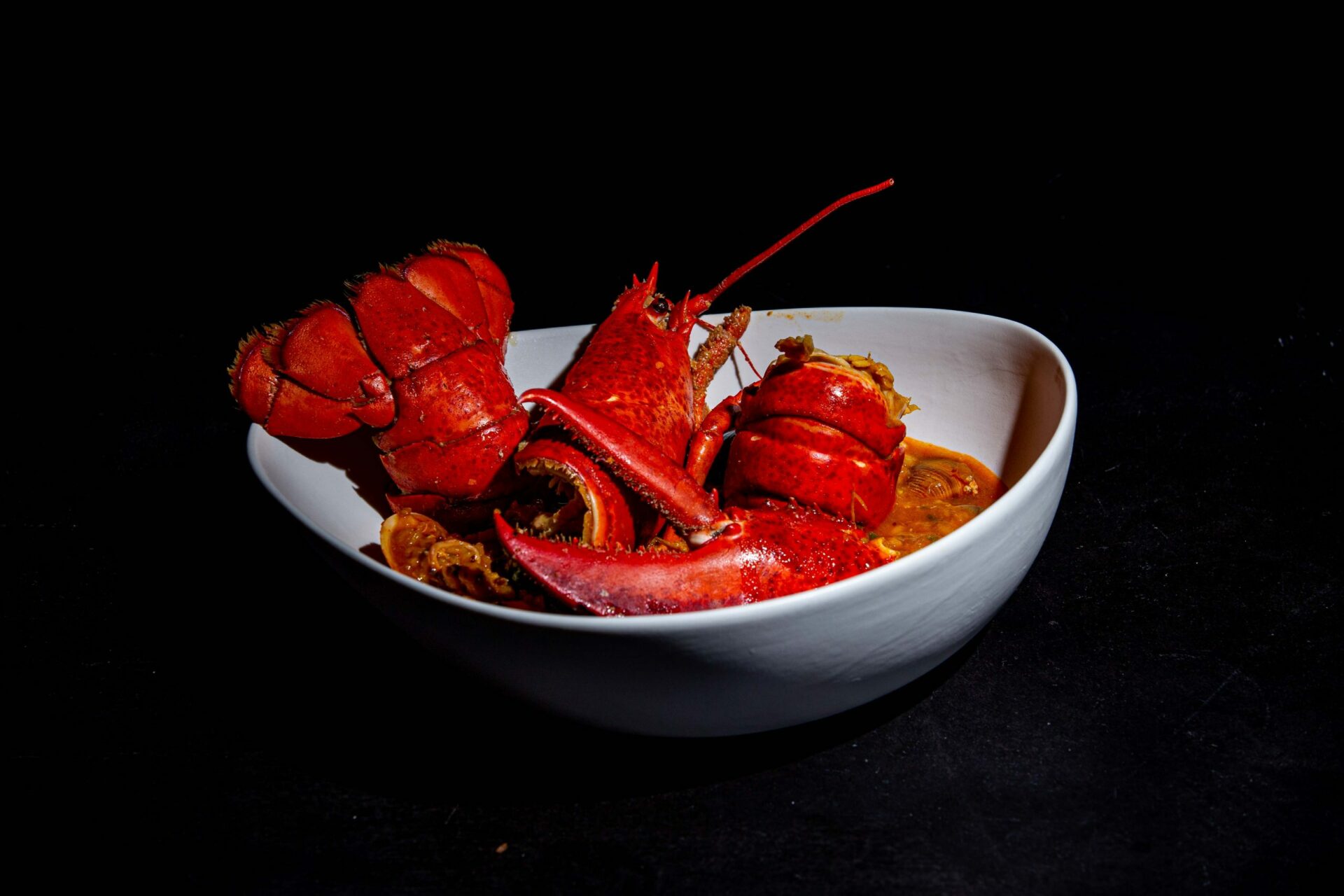 Judión de la Granja con perdiz salvaje cocinado a fuego lento
Judion jumbo white beans "de la Granja" DOC with wild partridge
Fabada Asturiana con su compagno
Traditional Asturian "fabada" (bean stew) served with chorizo, blood sausage and smoky bacon.
Cocido madrileño (min 2 pers.) (Bajo reserva)*
Tradicional "Cocido Madrileño" stew prepared with pickpeas, vegetables, chicken, beef, ham , chorizo and smoky bacon. (Min. 2 person.)(preorder)*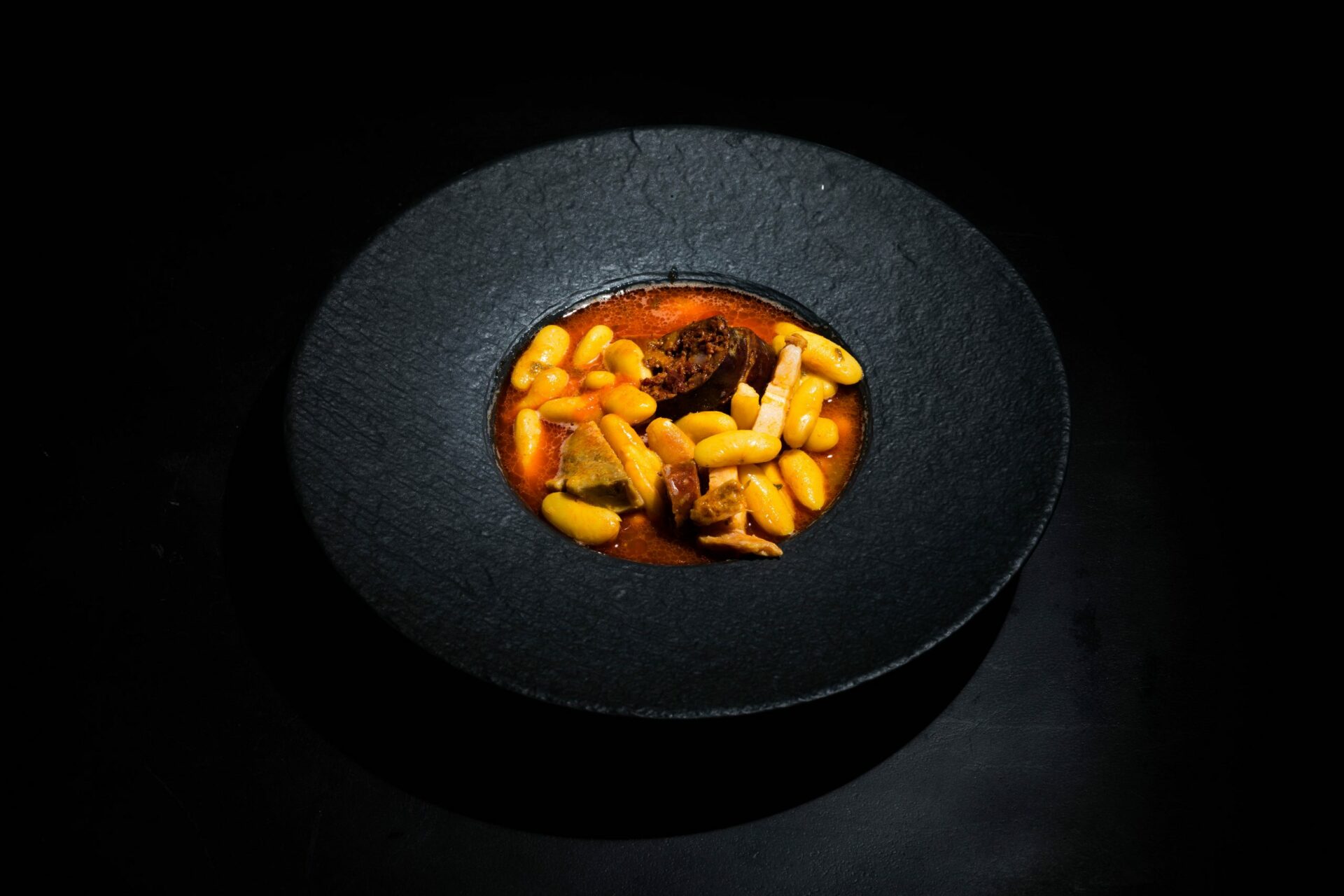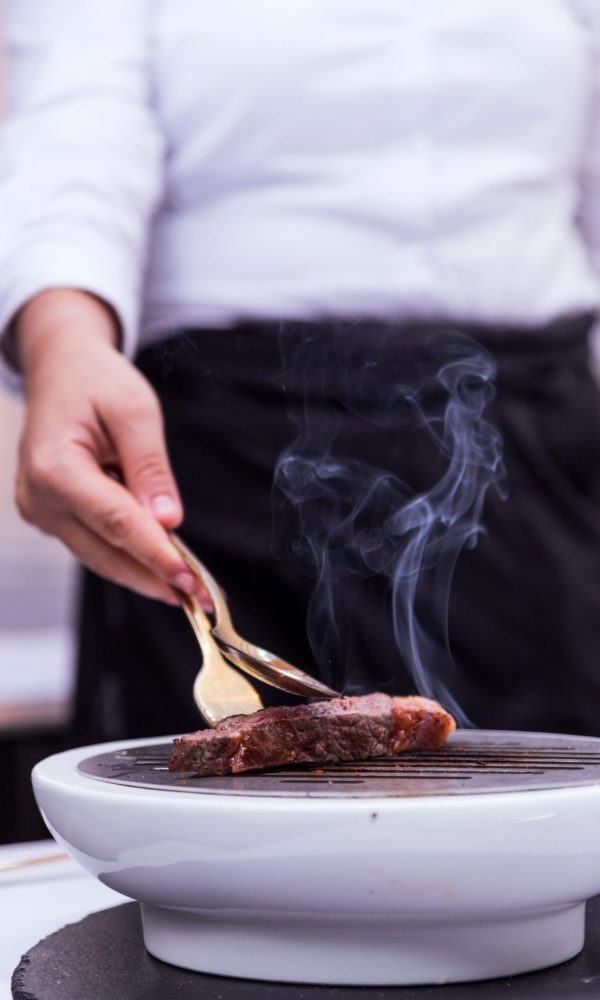 Carrillada Ibérica guisada en su propio jugo con puré de patata
Iberico pork cheeks cooked at low temperature in red wine sauce reduction served with potato pureé
Solomillo de vacuno con foie grass y reducción de Pedro Ximénez
Beef tenderloin with foie grass, Pedro Ximenez wine reduction sauce and potato pureé
Entrecot de ternera charra madurada 45 días
Entrecot 'Charra beef' 45 day matured served with roasted red pepper and baby potato with garlic and parsley dressing
Secreto de cerdo ibérico a la brasa
Grilled 100% Iberico 'Secreto' pork flap served with baby potato and green salad
Lomo alto de vaca madurada 45 días con salsas variadas. 500gr.
Sirloin 45 day madurated served with a selection of premium sauces with roasted red pepper and baby potato
Chuletón deshuesado de vaca maduración 45 días (900 gr-1kg aprox)
Boneless Tomahawk steak 45 day matured served with roasted red pepper and baby potato with garlic and parsley dressing
Cordero lechal asado IGP "tierra sabor" (Medio lechal 3kg) (Bajo reserva)*
Roasted suckling Lamb 'tierra sabor' DOC_Half Lamb  (preorder) *
Cochinillo Segoviano D.O. (Medio cochinillo 3kg) (Bajo reserva)*
Roasted suckling pig DOC from Segovia DOC) (preorder) *
130.00 € / medio cochinillo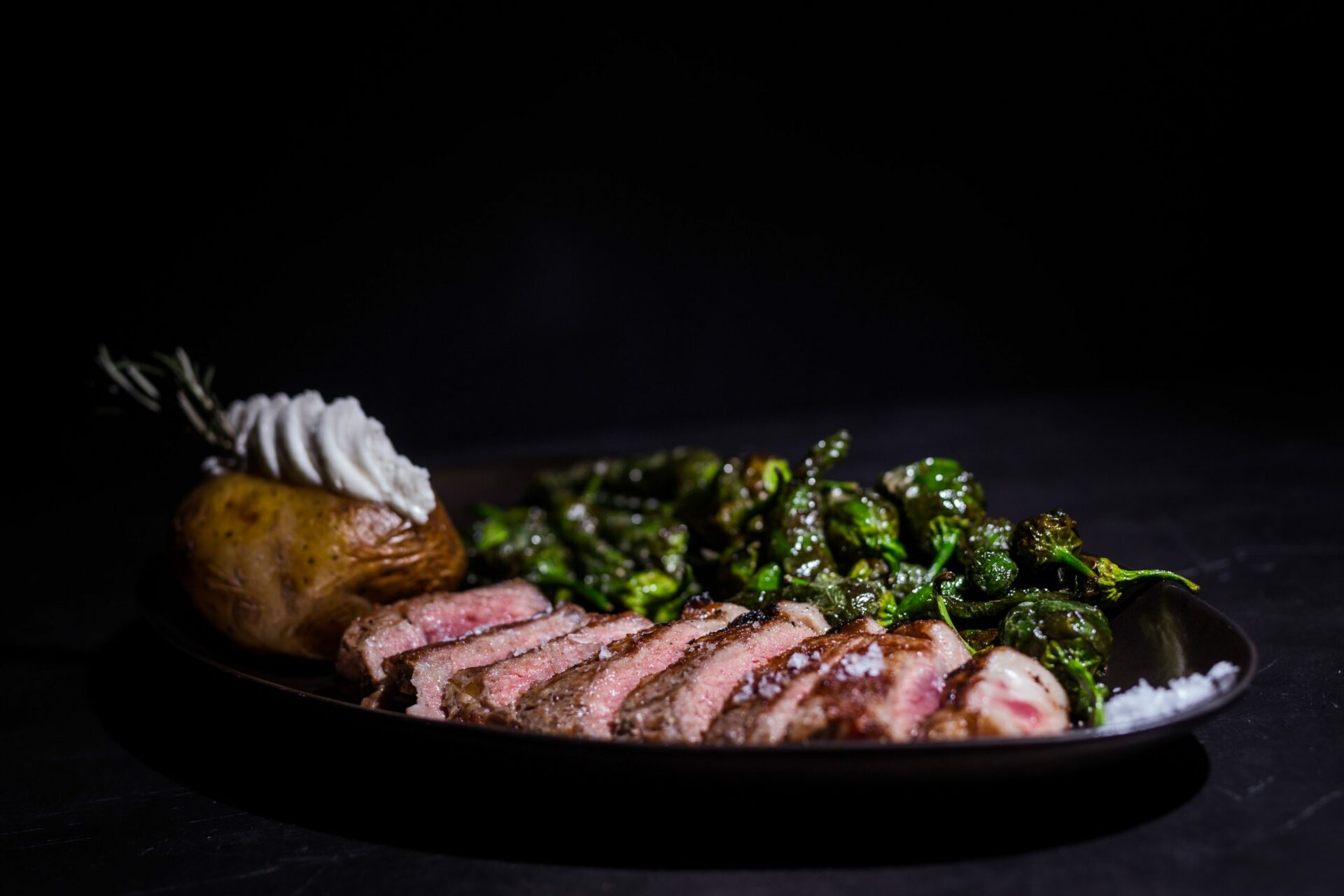 Pescados_
Fish and Seafood
Lomo de Bacalao vasco confitado con ajoarriero, su crujiente y toque de pil pil
Cod fish steak cooked at low temperature from Basque country with ajoarriero stew and pil pil dressing with it's crispy skin chips, served with black rice.
Pulpo gallego al estilo "a Feira"
Boiled Galician Octopus DOC 'a Feira' style with potato, virgin olive oil , paprika and sea salt flakes
Tartar de Atún rojo salvaje de Almadraba
Wild red tuna (Blue Fin) from Almadraba served with avocado, wakame and sturgeon pearls
Merluza de pincho del cantábrico en salsa marinera con marisco
Cantabric Hake steaks cooked in seafood sauce with clams, mussels & king prawn
Sepia a la plancha aliñada con ajo y perejil
Grilled Cuttlefish served with garlic and parsley dressing, served with green salad and squid ink emulsion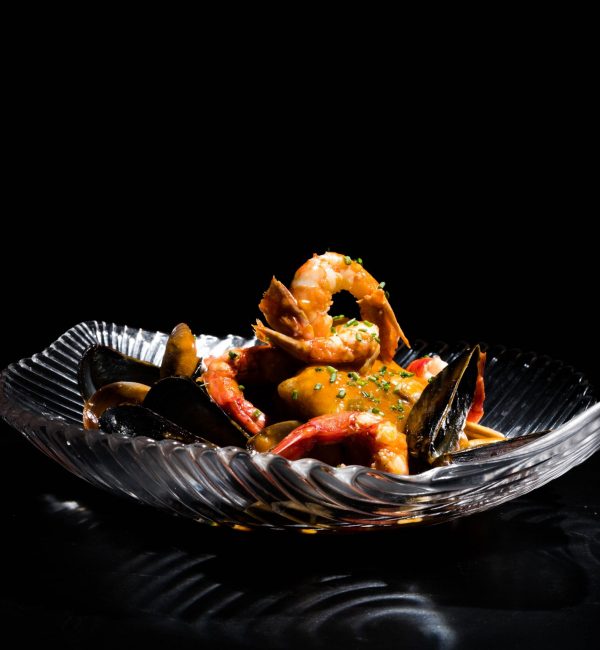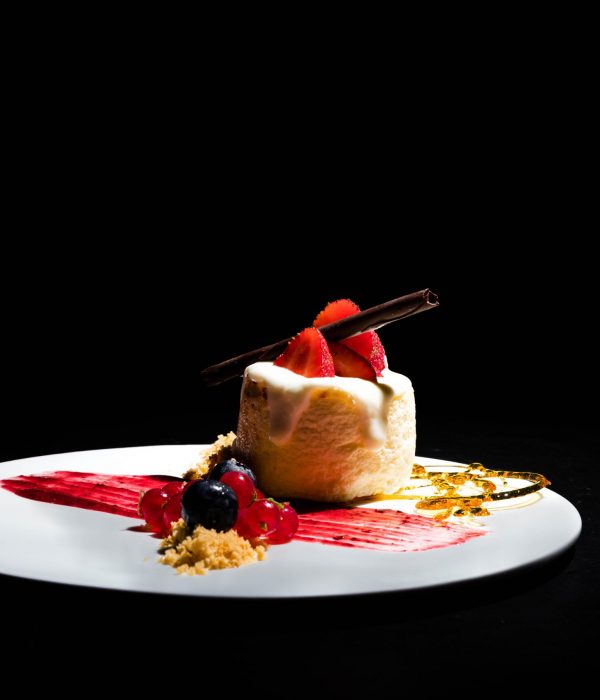 Nuestros postres_
Our desserts
Crema catalana con su quemadito
Catalonian Cream Brullé style
Helados variados con crujiente de chocolate
Assorted ice creams of vanila, chocolate and stwarberry with chocolate crispy
Tarta de queso con frutos del bosque y crumble de galleta María
Cheseecake with berries served on a bed of cookie "Maria" crumble
Tarta cremosa de trufa sobre cama de natillas, frutos rojos y ganache de chocolate
Creamy truffle cake with,custard, berries and chocolate ganache dressing
Tarta árabe rellena de crema pastelera
Crunchy Phyllo Pastry layers filled with pastry cream, whipped cream and icing sugar
Tarta fina de manzana recién horneada con helado de vainilla
Crunchy Apple pie with vanilla ice cream (takes 30 minutes in oven)